Protobuf–整合使用Protobuf定义的数据结构
Protobuf是Google开发的串行式界面描述语言,广泛应用于存储和交换结构化的数据信息。此插件可自动生成Protobuf数据结构的编解码器,同时可完成至TTCN-3的转换,以便于开发和维护测试集。
TTplugin Protobuf – Full Data Integration for Protocol Buffers

Protocol Buffers are a serialization format with an interface description language developed by Google, widely used for storing and interchanging all kinds of structured information. They serve as a basis for a custom remote procedure call (RPC) system that is used for practically all inter-machine communication at Google.

Protocol Buffers are simpler, 3 to 10 times smaller, 20 to 100 times faster, less ambiguous than XML, and generate data access classes that are easier to use programmatically. While facilitating network communication, Protocol Buffers are a good alternative to data-centric C++ classes and structs, especially where interoperability with other languages or systems might be needed in the future. More Information at http://code.google.com/.

TTplugin Protobuf provides a full data integration including codec generation for Protocol Buffers.


Direct import of Protobuf specifications
Automatic generation of TTCN-3 representation from Protobuf specification
Generic codec built in (binary format)
Protobuf dump view shows human readable presentation of sent and received Protobuf messages
Freely combinable with additional test access (TTplugins)
Compatible to Google Protocol Buffers 2.3.0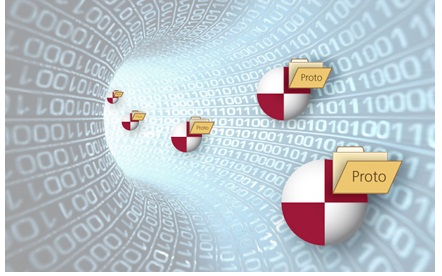 TTPlugin Protobuf Datasheet
发邮件到sales@testingtech.com.cn了解更多信息。