HP Quality Center– 惠普质检中心
惠普质检中心以统一的网页平台,整合了测试管理的多项功能。此插件确保了TTCN-3测试例和惠普质检中心之间的无缝对接
TTplugin HP Quality Center – Execution of TTCN-3 Tests in HP Quality Center

TTplugin Quality Center assures a seamless integration of TTCN-3 test cases into the HP Quality Center.
HP Quality Center offers one single web based application for all essential aspects of the test management. It provides a consistent, repeatable process for setting up requirements, for planning and scheduling tests, for analysing results, and for managing test run results.

With this software you are able to automate quality processes and procedures within the longer application's life cycle. Furthermore, it supports communication and cooperation between IT teams.


HP Quality Center modules

Requirements management, release and cycle management
Test plan and test lab
Defects management and dashboard reporting

Creation of test campaigns / arrangement of tests
Automated execution of TTCN-3 test suites
Saving of test results directly in the Quality Center database
Easy integration of TTCN-3 tests into an existing Quality Center environment
Standards-based testing with TTCN-3
Free of charge for users of TTworkbench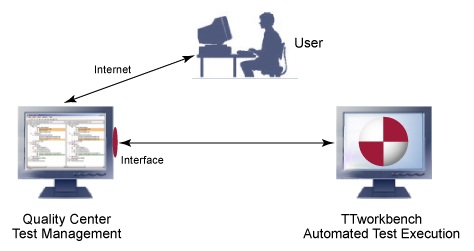 TTPlugin HP Quality Center Datasheet 下载
发邮件到sales@testingtech.com.cn了解更多信息。